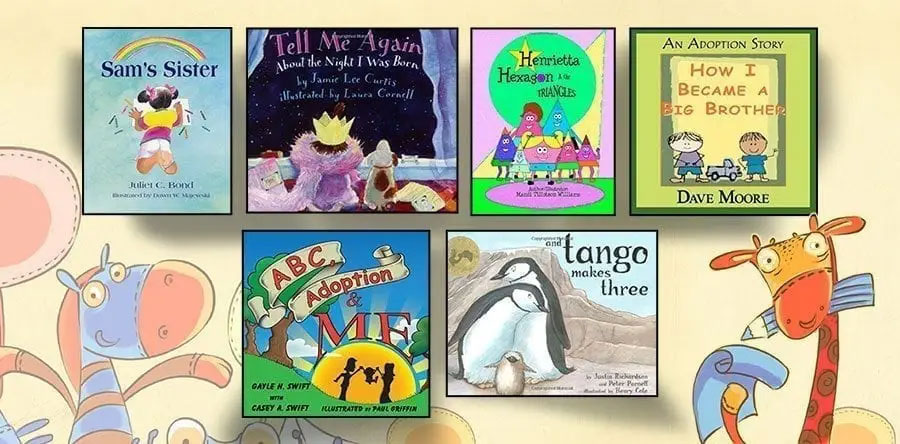 Children's Books about Adoption
Friends in Adoption is frequently asked about adoption book recommendations for children. We are happy to share a partial list of some of our favorites with you!
Please consider shopping for books at AmazonSmile.com via this LINK, and a portion of your purchase will be donated back to Friends in Adoption!
---
ABC, Adoption & Me
by
Gayle H. Swift
and
Casey A. Swift
(2013). This is an alphabet book that every young child (and the adults in their lives) should read! This book celebrates adoption and addresses difficult issues as well.
ABC, Adoption & Me
"will warm hearts, deepen understanding of what it means to be an adoptive family and provide teaching moments that bring families closer, connected in truth, compassion and joy."
---
Henrietta Hexagon and the Triangles
(2012) by
Mandi Tillotson Williams
(for ages 4 and up) tells the story of adoption, shapes, and what it means to "fit in." This sweet story even incorporates a subtle math lesson into broader themes of the love of family and the fact that not all kids look exactly like their family members.
Readers' Favorite
shared a review that called it a "good educational tool for little readers to learn their shapes while learning a lesson about being different but being accepted."
---
How I Became a Big Brother
(2008) by
Dave Moore
tells the story of how one small child became a big brother through adoption. Designed for young children, this story "is told from the point of view of the toddler and touches on many of the concerns and fears that a child might be experiencing when their family decides to adopt. This book is a must read for anyone who is considering adoption of another child when they already have young children."
---
Tell Me Again About the Night I Was Born
(1997) by
Jamie Lee Curtis
(for ages 4-8) is the story of a young child asking her parents to tell her the familiar and exciting story of the night she was born. This classic "is a unique, exuberant story about adoption and about the importance of a loving family."
---
Sam's Sister
(2004) by
Juliet C. Bond
is a book for ages 4 and up about open adoption told from the point of view of a biological child, Sam, whose mother is making an adoption plan for the Sam's unborn sibling. After the baby is born and is placed with the adoptive family, Sam and her mom stay in contact with and eventually visit the adoptive family. This story is a great starting point for discussion on the emotional complexities that surround adoption from the perspective of younger children.
---
And Tango Makes Three
(2005) by
Justin Richardson
. (Age range 4-8 years.) This beautifully illustrated book tells the story of two male penguins who were a couple and loved one another, and who were given the chance to become fathers to a daughter penguin, Tango. The story celebrates that families are not all the same, but family means love. "A little miracle for children. Funny, tender, and true, the story of Tango will delight young readers and open their minds." — John Lithgow.